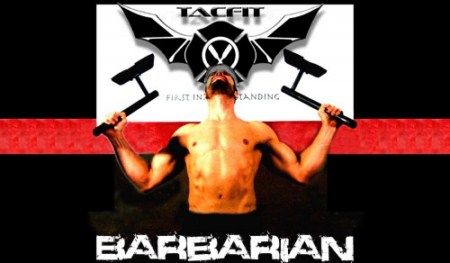 Scott Sonnon - TACFIT Barbarian (Plus Bonuses) | 6.85 GB
Genre: e-Learning
Scott Sonnon's latest TACFIT strength, conditioning, flexibility, and flow programs. One focusing on bodyweight exercises using simple parallette bars, the other his patented clubbells. Includes instructional and follow-along videos for both programs, warmups, cooldowns, diet manual, yoga video, core strengthening and awareness videos, weightloss "Furnace" videos, myofascial release videos and much much more. Manuals are in .pdf format, videos are in .m4v format.
Contents:
TACFIT Barbarian Manual:
In this 59 page, fully illustrated, color manual, Scott Sonnon teaches you his innovative parallette bar system. He takes you through the principles, concepts, and his secret tips and tricks for developing a yogi's core strength, a gymnast's shoulders and arms, a powerful wrestler's back and explosive martial artist's legs. Includes charts, calendars, exercise photos and detailed step by step instructions.
TACFIT Barbarian Instructional Videos:
In these four, state of the art, three camera professional instructional videos, you will learn from Scott Sonnon his step by step progress through all 32 exercises in his parallette bar course, designed to develop what he calls the "power chamber" - the secret to a powerful athletic body taught by martial artists, yogis and gymnasts. Meticulous attention to details in each instructional elements of movement as well as precise explanation of breathing techniques and structural alignment.
TACFIT Barbarian Follow-Along Videos:
In these four, twenty minute follow along workout videos using bodyweight and a pair of parallette bars, each studio filmed and artistically edited from three camera angles, Coach Sonnon works right with you so that you can follow along and carve your "power chamber" with the TACFIT founder himself.
King of Clubs Manual:
Beautifully crafted table top quality 49 page field manual written by Scott Sonnon, the creator of the patented Clubbell, and the innovator responsible for resurrecting this ancient tool, shares with you detailed explanation on the 7 key secrets of successful technique, how to troubleshoot poor form and reassemble optimal performance. Illustrated and photographed sequences of each of these 20 "Most Valuable Players" on the Clubbell strength building team take you through everything you need to perform this highly anticipated "TACFIT Clubbell" course and each of the four battle-tested missions for muscularly powerful, lean machined duty. Includes color charts, training calendars, and high quality photos. King of Clubs Instructional Videos: In these four, state of the art, three camera professional instructional videos, you will learn from Scott Sonnon his step by step progress through all 20 exercises in his two handed club swinging "shock troop" - TACFIT Cubbell. No one describes club swinging with as much personal experience, scientific understanding, or ease of communicating technique, than the master himself. Learn proper form to maximize your adaptation from the man who resurrected the original form of strength training. King of Clubs Follow-Along Videos: Through beautifully produced, three camera cinematography, Coach Sonnon works right with you in these four, twenty minute easy to follow workouts, so that you can follow along with masterful technique with maximum results, in two handed club swinging, the first form of exercise equipment in history.
Band-Ageless Videos:
In these two follow along instructional videos, Scott Sonnon takes you through a synergistic powerhouse of accelerated recovery by combining resistance bands with joint mobility drills, to add traction to your movement warm ups, cool downs or off days. Split into an Arms Program and a Legs Program, you get the "Best of Both Worlds" of recovery in this innovative approach to no intensity exercise for pain-eliminating and injury preventing movement. Atlas Yoga Videos: Requiring only five minutes to perform, the creator of this scientific approach to the millennia old system of Prasara yoga, Scott Sonnon, shares with you how to unlock your upper body, arms and in particular shoulders from pain and over compensating tension. With laser targeted precision, each movement specifically unloads both barrels from high gauge impact of strength training. 28 Day Primal Challenge: Simple, clean nutrition in four weeks, this 35-year-in-the-making manual promises. Skipping by decades of extensive beginner and intermediate errors, and repeated experimental trials which transformed him from an obese child with physically debilitating joint pain into a multiple sport world champion, Scott Sonnon presents you his easy to follow, step by step, 18-page process to achieve clean simple nutrition in only 28 days in a spectacularly formatted and explanatory user's guide to the original form of health living while supporting the high tempo of modern lifestyles: Pre-industrialized, Paleolithic quality food with Post-modern, Neolithic quantity performance.
BONUS Material:
TACFIT Drift Videos: The Drift is a bodyweight-only core-centric workout that specifically prepares you for explosive power generation. Named after Scott Sonnon's early wrestling experience of burning the last 10lbs of fat off before his university tournaments, Drift takes bodyweight exercise to a new level by destabilizing movement with glide discs, in innovative flow routines which have made Scott's programs famous. TACFIT Accelerator Videos: Accelerator adds acceleration and deceleration, using a med ball to transform slow and smooth into fast and furious by pairing weight with movements performed at high velocity. Coupling this program with TACFIT strength missions like Barbarian and King of Clubs adds the punch of a tactical air strike to your earlier infantry drive.
TACFIT Pillars Video:
Pillars developed out of the necessity to grow strong, powerful, lean legs and glutes, your "pillars" holding the roof of your torso. Purely bodyweight exercise this 3 minute round performed 5 times with one minute of rest showcases a collection of innovative exercises from martial arts, yoga flow and basic acrobatics will increase the engine heating your furnace. Your greatest threat to bodyfat lies in your Pillars, because it holds the bulk of your total muscle mass. Increasing the muscle density and powerful range of motion of your Pillars, will kick the fat off your body with devastating effectiveness and lethal accuracy.
TACFIT Furnace Zero Video:
Furnace Zero refers to a specific bodyweight program that places your core under constant anti-rotation, through the use of glide discs (or paper plates if you want to Do-It-Yourself). In a set sequence of resisting rotational movement, the core increases its "furnace" like temperature, and due to a specific neurological law, it increases your total metabolic expenditure throughout the day, melting down - or "zeroing" bodyfat. You don't need to know how it works for it to work, though! Thankfully, the effects of this 3 minute round performed 5 times with one minute rest in between will shrink-wrap your skin around your gnarled abdominal wall, without understanding any of the science that makes it one of the most functional core programs ever added to the TACFIT suite of high performance fitness.
TACFIT Stress Conversion Video:
Any physical stress creates specific bands of tension, the body attempting to lock us into a biomechanical machine that can efficiently perform whatever task we ask of it. But these band also "lock up" our energy, literally "slamming on the brakes" of life performance unless we take specific action to dissolve them. The "GO TO for the Gungho" TACFIT recovery program is seven minutes of heaven, converting every bit of stress in his body into the fluid force necessary to confront and master life challenges. This series of Prasara techniques will help you unlock the tension, free that energy, and help you prepare mind and body for either fast action or deep sleep.
TACFIT Strain Prevention Video:
Scott went beyond the call of duty to share his PERSONAL joint health program, the very one he performs EVERY SINGLE DAY to keep his 40-year old body functioning at the level of a 20 year old. And that's not just his opinion--that's what his physician said! Interested Well, this is it. Eighteen minutes of pain free, no intensity motion in followalong format with full vocal coaching. Remember one thing to use the program to return your body to peak joint efficiency: if you want to CURE a problem, do it slowly. If you want to PREVENT problems, do it daily. If you don't have this information, it's worth the price of the program by itself.
TACFIT Caduceus Videos:
Instructional video: In this 33 minute instructional program, you'll learn the unique and innovative approach to using ancient martial art staff conditioning drills to release tension and tightness in the upper body. Each of the 13 core movements build upon one another progressively, using only a household dowel rod or broomstick.
Follow-Along video:
Requiring only 5 minutes, to free the upper body of pain and tightness, this simple to learn and easy to follow warm-up can just as effectively be used as a cool-down or a recovery workout for restoration and recuperation.
TACFIT Body-Rolling Videos Instructional video:
In this 41 minute instructional program, you'll learn the location, application, direction and duration of the twenty-one exercises in this unique and innovative approach to myofascial release.Combining simple yoga postures to elongate the target tissues, with the body rolling technique of myofascial release, offers fast, effective, thorough and enduring freedom from the tightness and tissue density which results in pain and injuries.
Follow-Along video:
With only 10 minutes, you can follow this video as a warm-up, cool-down or recovery day for restoration and recuperation from training, occupational, sport and life stressors. The combination of simple yoga postures and easy to follow body rolling technique provides you with increased energy and pain-free range of motion, using only an inexpensive tennis ball. TACFIT Maximology Manual: This invaluable vault-locked book represents the original secrets escaped from the former Soviet Union's classified "Department of Maximology" - a State sponsored "think tank" of publicly-unreleased discoveries into human peak performance - brought to you by Scott Sonnon, the first foreigner to formally intern behind the guarded gates of the"Iron Curtain". Compiled for his first ever certification seminar debut in the early 2000s, Coach Sonnon presents a collage of techniques, tools, models, and insights translating billions of rubles in research into a clear, concise field manual into the optimal zone of human potential.
TACFIT Freedom by Degree:
In this rare archive, never before seen in digital format seminar, Scott Sonnon, the original American pioneer of joint mobility, introduces his approach to the Western World. Taking his integrated background in martial art, bodywork, biomechanics, alternative movement therapy and recovery techniques, he presents his "Freedom by Degree" lecture with practical applications on Joint Nutrition and Lubrication, Coordination Training, Mechanoreceptive Enhancement, Stress Release, Dynamic Relaxation, and Movement Re-education.

(All below links are interchangable. No password)
Buy a Premium Account Uploaded = High speed + Parallel Downloads!Download ( Uploaded )

http://uploaded.net/file/nufgn49a/TACFIT%20Barbarian.part1.rar
http://uploaded.net/file/7crlxy9x/TACFIT%20Barbarian.part2.rar
http://uploaded.net/file/vyx5k5kz/TACFIT%20Barbarian.part3.rar
http://uploaded.net/file/0ivxqdjy/TACFIT%20Barbarian.part4.rar
http://uploaded.net/file/qe4l4cni/TACFIT%20Barbarian.part5.rar
http://uploaded.net/file/p4y9nw5r/TACFIT%20Barbarian.part6.rar
http://uploaded.net/file/vbutk4nq/TACFIT%20Barbarian.part7.rar

Download ( Lumfile )

http://lumfile.com/ck72gt0iw4i0/TACFIT_Barbarian.part1.rar.html
http://lumfile.com/ubbnkloamvf6/TACFIT_Barbarian.part2.rar.html
http://lumfile.com/s1ee607h63ic/TACFIT_Barbarian.part3.rar.html
http://lumfile.com/eddk8flodeym/TACFIT_Barbarian.part4.rar.html
http://lumfile.com/hocsysnl497c/TACFIT_Barbarian.part5.rar.html
http://lumfile.com/6itguqk8dbei/TACFIT_Barbarian.part6.rar.html
http://lumfile.com/v20aaqv3rc7d/TACFIT_Barbarian.part7.rar.html

Download ( Extabit )

http://extabit.com/file/2cqawm0ugpbv2/TACFIT Barbarian.part1.rar
http://extabit.com/file/2cqawm0ugp2dq/TACFIT Barbarian.part2.rar
http://extabit.com/file/2cqawm0ugp2em/TACFIT Barbarian.part3.rar
http://extabit.com/file/2cqawm0ugp5la/TACFIT Barbarian.part4.rar
http://extabit.com/file/2cqawm0ugp5ku/TACFIT Barbarian.part5.rar
http://extabit.com/file/2cqawm0ugoz8u/TACFIT Barbarian.part6.rar
http://extabit.com/file/2cqawm0ugow66/TACFIT Barbarian.part7.rar

Click my nick to see more my articles
Scott Sonnon - TACFIT Barbarian (Plus Bonuses) Fast Download via Rapidshare Hotfile Fileserve Filesonic Megaupload, Scott Sonnon - TACFIT Barbarian (Plus Bonuses) Torrents and Emule Download or anything related.